Description
When your kids build a fort out of sofa cushions, they're imagining themselves in something like the Donco Kids Low Study Loft. This all-in-one kid space features room for a twin bed above a bookshelf, chest, and roll-out desk that turns their room into a fun, imaginative space. This loft is also offered in a full range of finishes that lets you choose the look that's right for your (and their) personal taste.
All you need to do is add a twin-sized bed and you're ready to start filling the bookshelf and chest with all the things that make their room. The storage drawers in the cappuccino finish include metal knobs. The white finish has wood knobs.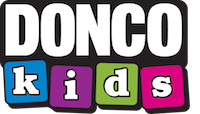 Donco Trading Company has made youth furniture their specialty. The family-owned and -operated business carries a full line of day beds, platform beds, bunk beds, and more – all reasonably priced. They distribute to and work directly with small business owners, specialty stores, and more in locations throughout the country.