Description
Luscious Blue PetMe™ Cashmere Super Pillow Top Cover Material: Gorgeous luscious Cool Blue PetMe™ Belgian stretch top cover material offers the incredibly comfortable feel of luxurious Cashmere.
Pillow Flex: New age foam has a contouring plush feel of fiber while resisting the body impressions associated with fiber.
Contouring Temperature Activated Memory-Cell® Comfort Layer: Temperature responsive space-age material contours to the body for even weight distribution to eliminate pressure points.
Posturized Multi-Zoned Support Grid: Optimizes support physics & provides separately designed zones for head-to-toe comfort.
5-Zone Convoluted 1″ Foam (Air Only): Manufactured with extra-thick, high-density polyurethane, convoluted foam. Formed with a unique combination of 5 distinctive zones to reduce stress on the pressure points & provide customized support for your entire body.
Air Support Systems contour to the shape of the body, providing even weight distribution while reducing pressure points!
Moisture Barrier Backing: Protects internal components for long trouble free life & a healthier sleep environment.
Memory Weave Wrapped Power Edge Support: Edge support offering comfort & support whether sitting on the side or lying on the mattress. The Memory Weave provides our Power Edge with a "no bow" design increasing the durability & longevity by not allowing oxidation of the foam.
Each partner has the freedom to customize their individual side! The Air Support System can be made as SOFT or as FIRM as you or your partner prefer with the touch of a button!
Durable Top Enclosure: Encases all the internal components while adding style & beauty in your bedroom.
Fully Assembled Foundation: Both K & Q are split for additional strength, stability and convenience when moving.
This Mattress Meets All Consumer Products Safety Commission Standards.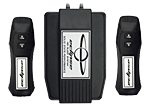 Eclipe Air Inflator This diaphragm (pneumatic) type air pump has proven to be superior, vs. vacuum fan forced, in design for quiet and reliable operation, and has progressed to a new level of premium performance and proven reliability.
Solid state performance.
New improved leak free air box system.
Dual diaphragm for top performance.
Wired dual remote controls.
Larger O-Ring provides for easier slip-on and eliminates any leakage at connection.
European Design Vulcanized 25 Gauge Latex with Cotton Canvas Cover-Thicker & more durable, providing a full 6″ of air suspension! The vulcanized process virtually eliminates all seams & flows together & becomes a one piece construction. Made with natural cotton, bonded to natural latex offering a soft texture & eliminating air leakage.
Double Reinforced I-Beam Design-Dual sided "I" Beam sealing is actually two layers of canvas with two layers of rubber bonded together joining the top and bottom of the Air Chamber. Where this "I" Beam meets either the top or bottom, the canvas/latex flairs out each way offering heavy-duty holding power for extra strength and years of durable use.
Uni-Bonded Chamber/Hose Assembly-By sealing the air hose with special flexible rubber at the time of chamber manufacturing, the entire assembly is a single unit with no external connections to eliminate the concern of air loss, yet retains the full range of movement.
Brass Reinforced Connection Boot-Engineered to assure zero air loss at critical hose/connection juncture and provides a much more durable connection.
Pressure Activated Air Lock Internal Seal-The Twist-N-Lock™ connector houses the unique seal that prevents the back flow of air allowing the bed to be moved without the need to deflate the chambers.
Double Sealed Borders-The Chamber borders are constructed with a 1.25″ seam and reinforced with another 1.25″ seam for maximum strength. Double sealing creates a more reliable support system for years of proven longevity and trouble free use.
Multi-Directional Box Baffle Design-"Square pillow surface" designed to evenly support the body from head to toe, side to side, & at the edges of the chamber regardless of air level! This design also allows sleeping in the center of the dual models with no sensation of rolling to the middle or edge eliminating improper support caused by hammocking.
Steel Reinforced Kink Free Air Hose-The addition of the embedded surgical steel coil provides a more responsive inflation process. The kink free design improves pump life by reducing strain on the motor.
Barrel Cam-Lock™ Inflator Connector-Easy to use barrel connector locks in place to prevent accidental disconnect during use and is not rendered ineffective by dust or pet hair.
Quality Assured Chambers-All InnoMax® air inflation systems are thoroughly tested & quality assured before shipping.